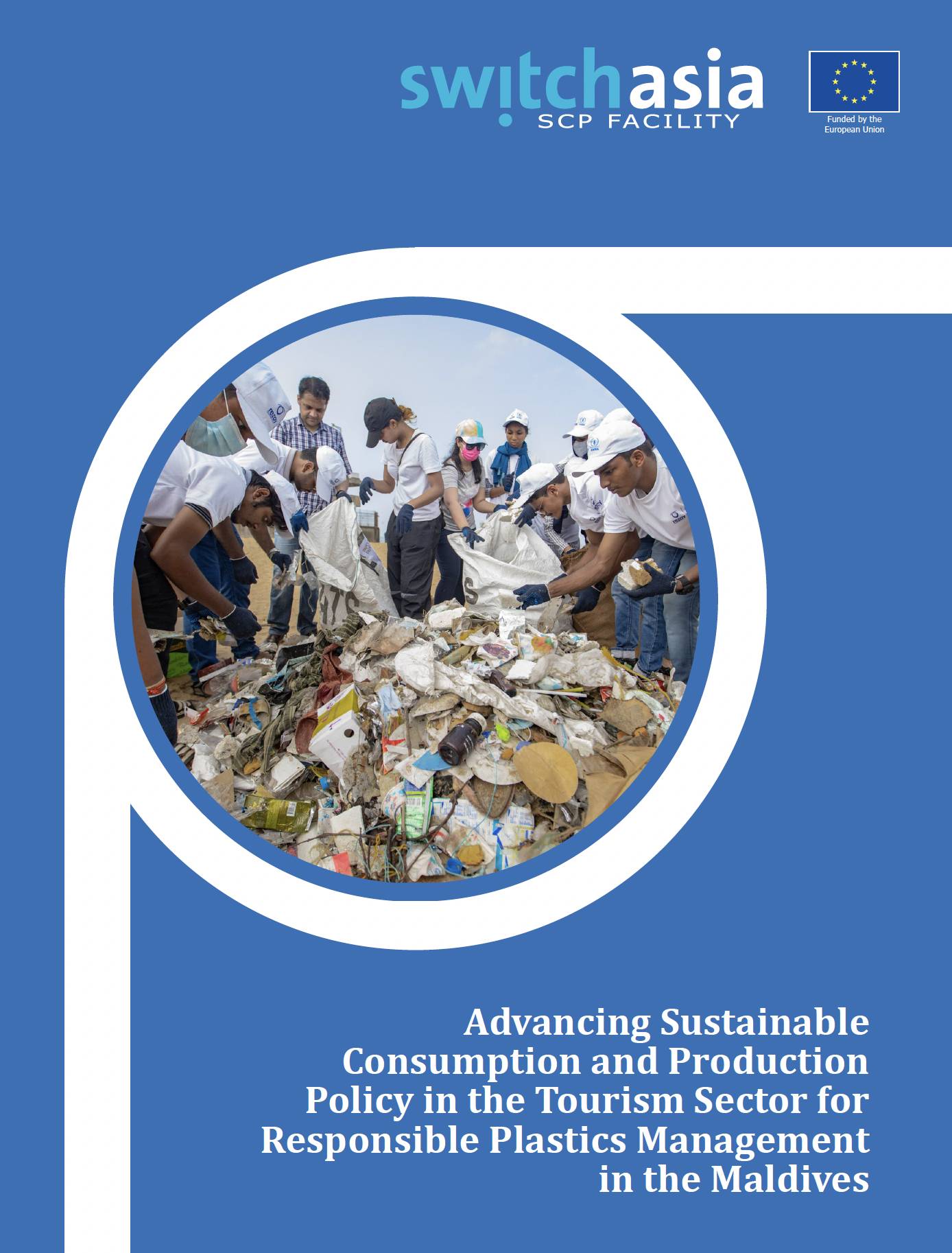 Responsible Plastics Management in the Maldives
To advance Sustainable Consumption and Production (SCP) policy in the tourism sector for responsible plastics management in the Maldives, the European Commission, through its SWITCH-Asia Programme, and the Government of Maldives, agreed on an assignment to be implemented from March 2021 to March 2022. The objective of this assignment was to develop sustainable waste management policies and tools for minimizing and preventing SUP, and improving circularity of plastics in the tourism sector to be in line with SCP and circular economy policies in the Maldivian context.
The issue of plastics management in the Maldives is inextricably linked to the broader waste management systems. In this regard, plastics management faces a number of challenges including the lack of regulatory frameworks on separate collection, sorting of plastics, insufficient waste management infrastructure and resources, lack of enabling economic instruments and lack of user awareness on waste management. The availability of data is another issue that compounds the waste and plastics management in the country. Additionally, unclear and sometimes overlapping roles and responsibilities of the stakeholders also affect the efforts towards waste and plastics management. Based on the challenge and opportunity analysis, and the key findings, this report provides details on potential actions that can be taken to improve the waste and plastics management in the Maldives. These recommendations aim at establishing data collection systems, policy instruments, improving capacity and waste management infrastructure, and implementing an Extended Producer Responsibility (EPR) scheme for plastic packaging in the country. 
This report is organized into five sections:
Section 1 provides an introduction to the assignment and to the methodology used to compile the report.

Section 2 provides the status of single use plastics in the Maldives. It presents the available information on the plastic waste generated, the country's legal and regulatory framework as well as a discussion on the challenges regarding data availability  on waste and plastics in the country. The section also discusses the use of SUP bottles.

Section 3 provides an overview of the best practices, best available techniques and best environmental practices in relation to plastics management.

Section 4 provides policy recommendations based on the current status of plastics in the Maldives. This section also provides a preliminary outline of an Extended Producer Responsibility (EPR) scheme that can be introduced in the country. 

Section 5 provides conclusions of the report.