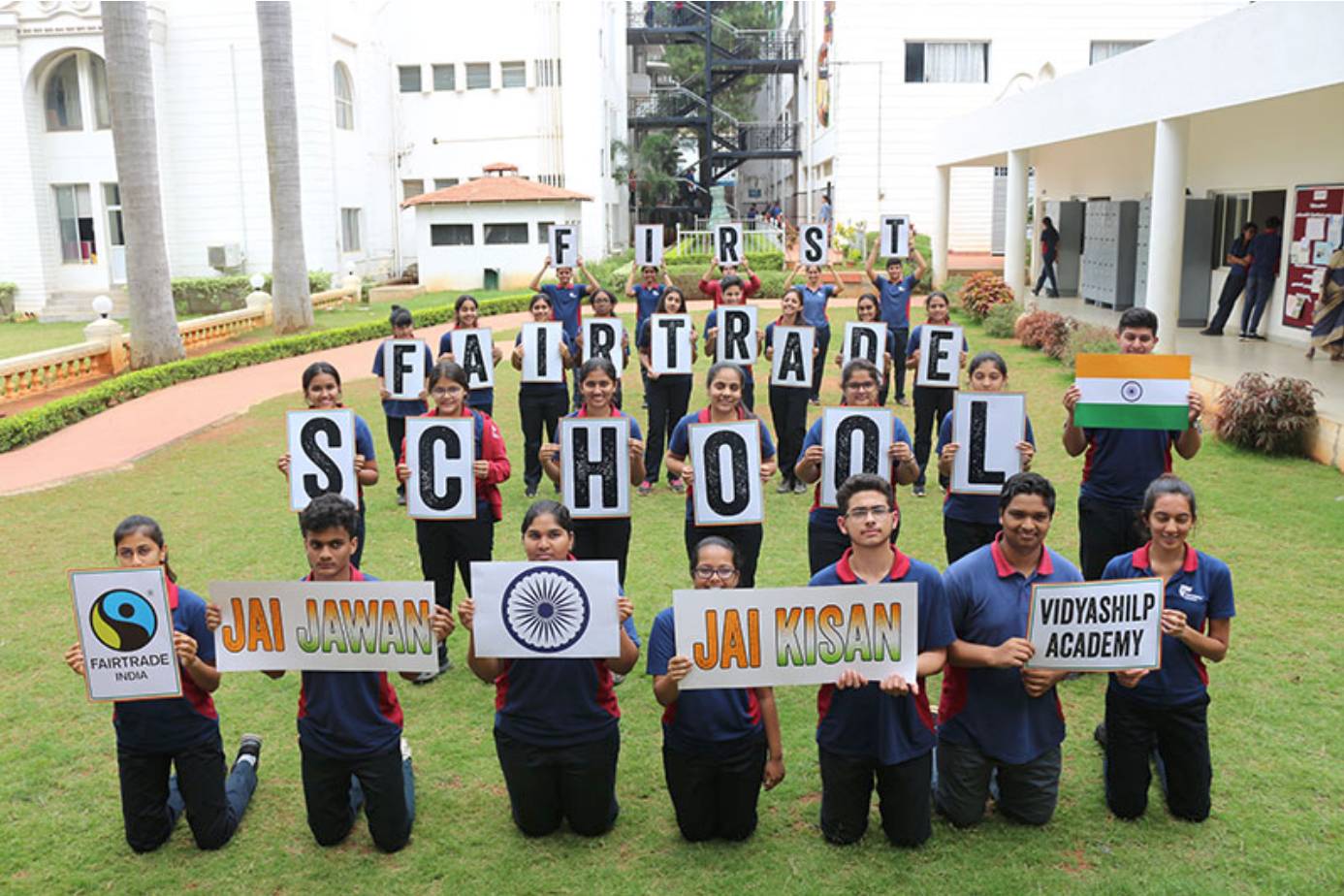 Awards Ceremony and Online Portal Launch
10,344 students from 17 schools join the Fairtrade India Schools Programme to support the global Fairtrade movement. Four schools were awarded for their pioneering commitments and for completing the stages on their way to becoming Fairtrade Schools.
Fairtrade India organised the first ever virtual Awards Ceremony to acknowledge, recognise and celebrate all the students, teachers and school communities who have achieved significant milestones of the Fairtrade India Schools Programme. The event organised on the 21st September also launched Fairtrade India's Schools Digital Portal and acknowledged all schools who have signed up for the programme as they embark on the sustainability journey with Fairtrade.
A Fairtrade School  is committed to Fairtrade values and practices; it is at the heart of the global movement for promoting responsible consumption and production (Sustainable Development Goal 12). There are three important stages to becoming a Fairtrade School - FairAware, FairActive and FairAchiever.  Fairtrade India launched a Fairtrade Pilot Schools Programme in India in 2014 with the idea of teaching young people that however insurmountable a problem might seem, they can be the changemakers. With its success, a dedicated schools programme has been launched with the support of the EU SWITCH-Asia Programme to encourage more schools to take action towards the awareness raising and attainment of Sustainable Development Goals. The ambitious aim is to reach 200 schools in the near future. As we scale up the intention remains the same, the programme aims at making the next generation more aware about the social and environmental costs of trade and the power we have as consumers to make trade fairer, more transparent, accountable and equitable. The schools programme aims to build a responsible consumption movement and encourage schools and their communities to take action towards SDG 12 - Responsible Consumption and Production. 
Students are encouraged to uptake Fairtrade values, develop conscious mindsets, and responsibly address problems of mass global consumerism, climate change, poverty, food waste, and human rights. Socio-economic, environmental and sustainable development can be furthered with our individual actions and institutional commitments and the programme recognises the power of youth led actions and the ripple effects that this has on in their communities. Such youth led actions can not only promote the good work done by local business but can eventually also lead to building a fairer world. Moreover, the school programme enables teachers to enhance the curriculum with age-appropriate learning, carefully curated lesson plans and extra-curricular school activities, while students will understand the inherent issues in our food and trade systems and Fairtrade's role in making the system fairer, greener, more transparent and accountable.  
The Fairtrade India Schools Programme has reached 17 schools with 10,344 students who further take the awareness of Fairtrade and sustainability to their families and communities in new and innovative ways. These schools are spread across 11 cities in 7 states - Uttar Pradesh (Noida and Greater Noida West); Maharashtra (Mumbai and Pune); Haryana (Gurgaon); Tamil Nadu (Chennai and Erode); Karnataka (Bangalore and  Mysore); Delhi NCR  and Rajasthan (Jaipur). 
In the midst of the various global crisis, the EU SWITCH-Asia Fairtrade India project is happy to acknowledge the commitments and progress made by education institutions and students in India towards a more sustainable future. Through the Fairtrade India Schools Programme, these institutions and students have been learning and taking action to adopt sustainable food and fashion choices. This is a crucial step in adopting the UN Sustainable Development Goals, particularly Goal 12 on Responsible Consumption and Production. We greatly appreciate this commitment from our partners and look forward to building a stronger Fairtrade movement in India to achieve these Global Goals together, said Abhishek Jani, SWITCH-Asia Fairtrade India Project of Centre for Social Markets. 
Minister Counsellor and Head of Cooperation, European Union, Mr. Daniel Hachez also attended the event and praised the work done under the EU funded SWITCH-Asia project SWITCHing India's Consumption to Fair and Sustainable Goods, in particular, the efforts taken by schools to raise awareness and promote Sustainable Consumption and Production (SCP).  
During the awards ceremony, four schools were recognised for their commendable work and inspirational achievements in successfully completing the stages of the Fairtrade India Schools Programme. There are nine steps that are included in three stages to become a Fairtrade School.  
At the FairAware stage, schools draft out a plan of action for their academic session. They start with a Fairtrade Assembly, Set up a Fairtrade Steering Committee and raise awareness about Fairtrade and the Fairtrade Mark.
The FairActive stage aims at building students' skills through curriculum-linked classroom activities, teaching them how to run a Fairtrade campaign, and encouraging them to make a Fairtrade switch by taking small commitments to responsible consumption.
In the final FairAchiever stage, schools take Fairtrade to their communities, adopt a Fairtrade procurement policy and post a final assessment by the Fairtrade India team. After completing all the stages, the school is awarded the designation of a Fairtrade School.
Four schools received the FairAchiever, FairActive and FairAware awards for their commendable work:
Vidyashilp Academy, Bangalore - FairAchiever + India's First Fairtrade School

The Universal School, Ghatkopar, Mumbai - FairActive

Ebenezer International School Bangalore - FairAware

The Manthan School, Great Noida West - FairAware
Vidyashilp Academy became India's First Fairtrade School in August 2018 with an institutional switch to Fairtrade certified t-shirts for their uniforms, the students of the school hosted the farmers who grow the cotton in their uniforms from Surendranagar Farmer Producer Company Gujarat. A selected group of students from the steering committee have also visited the factory where the uniforms are made, thereby interacting with the producers in the fairtrade supply chain of their uniforms and visited a rural school where the children of Fairtrade farmers study. They've conducted a range of activities including an annual sports day with Fairtrade Paper Boat chikkis as energy bars, campaigning at the nearest mall with a Fairtrade exhibition centre, a Chocolate Workshop with Pascati Chocolates, organising tuck shops to sell Fairtrade labelled products at their school, a bake sale fundraiser with celebrity chef Vinesh Johny, they've also hosted partners from BBS Handel Germany and attended the Fairtrade global schools conference in Germany in 2019. They received the FairAchiever Award and the Head of School Kalai Selvi in her speech commended the parents for their support choosing Fairtrade t-shirts and further committed to 100% Fairtrade uniforms in the near future. 
The Universal School, Ghatkopar was recognised as a FairActive school as the students have taken many steps to promote Fairtrade in their communities. The school has taken to the roads with Fairtrade Nukkad Natak, organised Fairtrade breakfasts, shared recipes with other schools in the Fairtrade international network, hosted famous youtuber and Fairtrade supporter Felix Von Der Laden, set up a Fairtrade library and supported activities during the Fairtrade Week campaign. Their former-principal Kavita Sharma and current Principal Sonali Sinha celebrated this Fairtrade journey at the event. 
Ebenezer International School Bangalore has been awarded the FairAware Award for the awareness related activities in the school. They have conducted 3 steering committee meetings to prepare a plan of action for the entire session, formed an exclusive Fairtrade club to meet and discuss the next steps every Friday and conducted a range of awareness and classroom activities. With Fairtrade assemblies addressing students across several grades. EISB students recently supported the Fairtrade Fashion Revolution campaign by writing letters to the CEOs of Indian Terrain and No Nasties.
The Manthan School, Greater Noida West was awarded the FairAware designation. The school started its journey of Fairtrade in October 2019 at the annual function attended by over 1500 people from their student and parent community where their principal Poonam Kumar Mendiratta launched the collaboration. The students have organised various activities to spread awareness about Fairtrade in their school like Fairtrade assemblies and various other awareness activities like - Nukkad Natak (street play), Honesty Wall, Fairtrade Quiz, presentations and setting up Fairtrade Chikki stalls. During their online classrooms students covered Fairtrade lesson plans on Climate Change and Fairtrade Cotton.
Even with current challenges in online learning, all schools remain committed to the Fairtrade movement, continuing their classroom and extra curricular activities with Fairtrade. The Fairtrade Schools Programme has taught us that strong and passionate driven students and educators are key players in building a responsible consumption movement in India. Change starts from the early stages of education and schools can lead by example in their communities, touching the lives of many more.  
If your school wishes to join the Fairtrade Schools Programme in India, contact 

[email protected]
Related articles:
For more information contact:
Devina Singh
Photo Credits:
© Vidyashilp Academy, Bengaluru