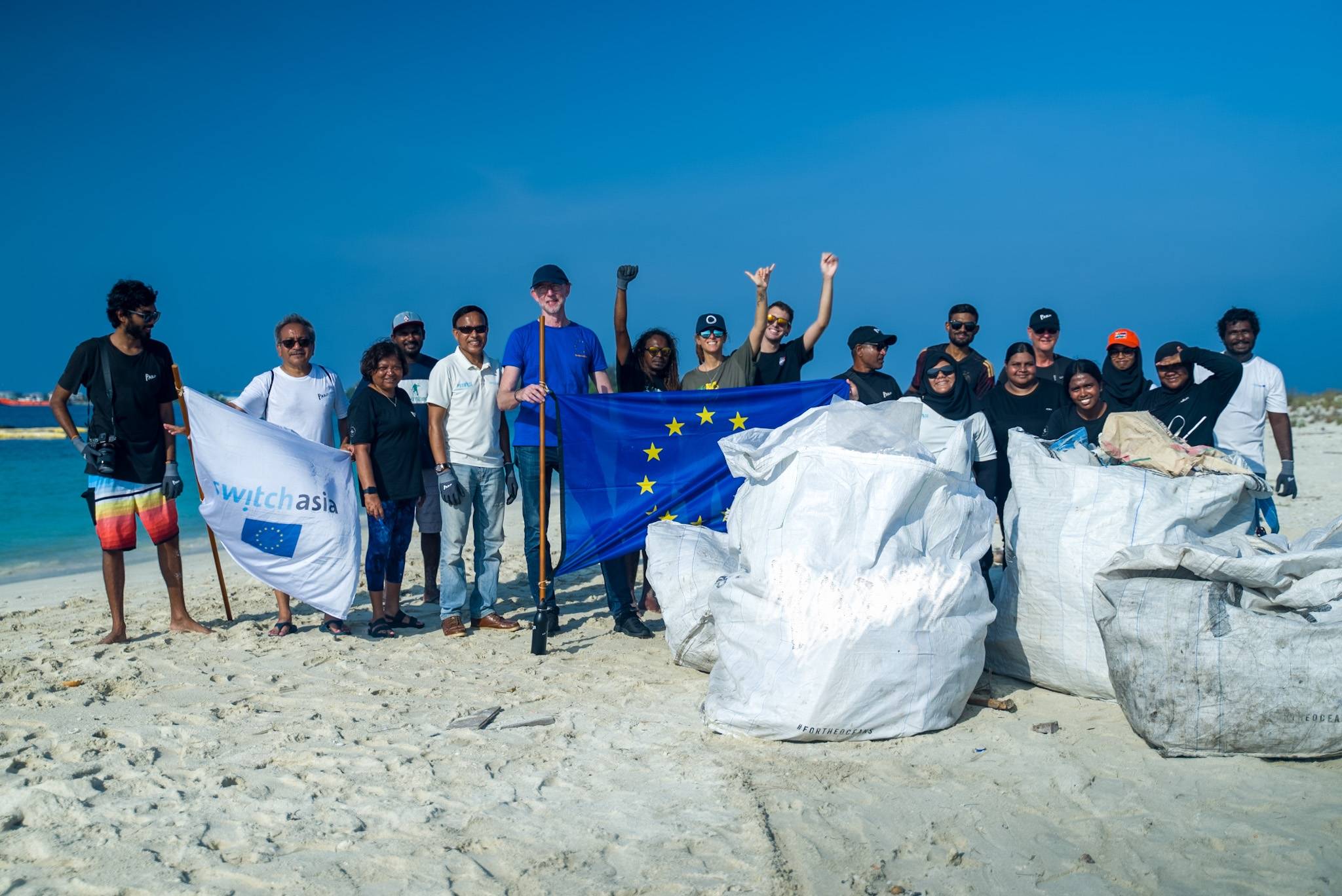 PROMISE beach clean-up
The Maldives are made up of roughly 1,190 islands spread over 860 km in the Indian Ocean. Of the Maldives territory, 98% is ocean, and the remaining 2% are islands— presenting a unique solid waste management challenge. Poorly managed plastic waste is threatening the marine ecosystem and economy of the country, with over 860 metric tons of waste—the majority plastic—generated daily (World Bank 2022).
The country, however, is beginning to comprehensively target single-use plastics using national level policy instruments. The Single Use Plastics Phase-Out plan (SUP Phase-Out Plan), for example, includes policy instruments intended to reduce the quantity of single-use plastics in the Maldives. These include increasing existing levies on SUP imports (e.g., plastic bags, PET bottles and raw materials, plastic balloon sticks, single-use plastic party decorations), exempting levies on alternatives to SUP (e.g., package-free products, utensils made from bamboo, and water filtration systems), developing fees on SUPs at the point of sale (e.g., plastic bags, balloon sticks, decorations, and condiment tubes), and creating incentive programmes for businesses that import, develop, and sell SUPs to use alternatives. The plan also has set policy and regulatory goals related to increasing data collection on imports of SUPS to determine national reduction and collection targets, passing extended producer responsibility (EPR) legislation for bottles, food and drink containers, food packaging, and household cleaning products and beauty products (In Nicholas Institute for Environmental Policy Solutions, Duke University 2022).
In this context, in 2020 the EU has funded the SWITCH-Asia Prevention of Marine Litter in the Lakshadweep Sea (PROMISE),  a four-year project (2020-2024) aiming to collect up to 1000 tonnes of litter from the Lakshadweep shorelines of the Maldives, Sri Lanka and India. As part of the project's activities, and in order to raise awareness on marine litter prevention, a beach clean-up event was organised on 28th November 2022 on the stretch of the Glhifalhu beach area, a reclaimed island for the new commercial port.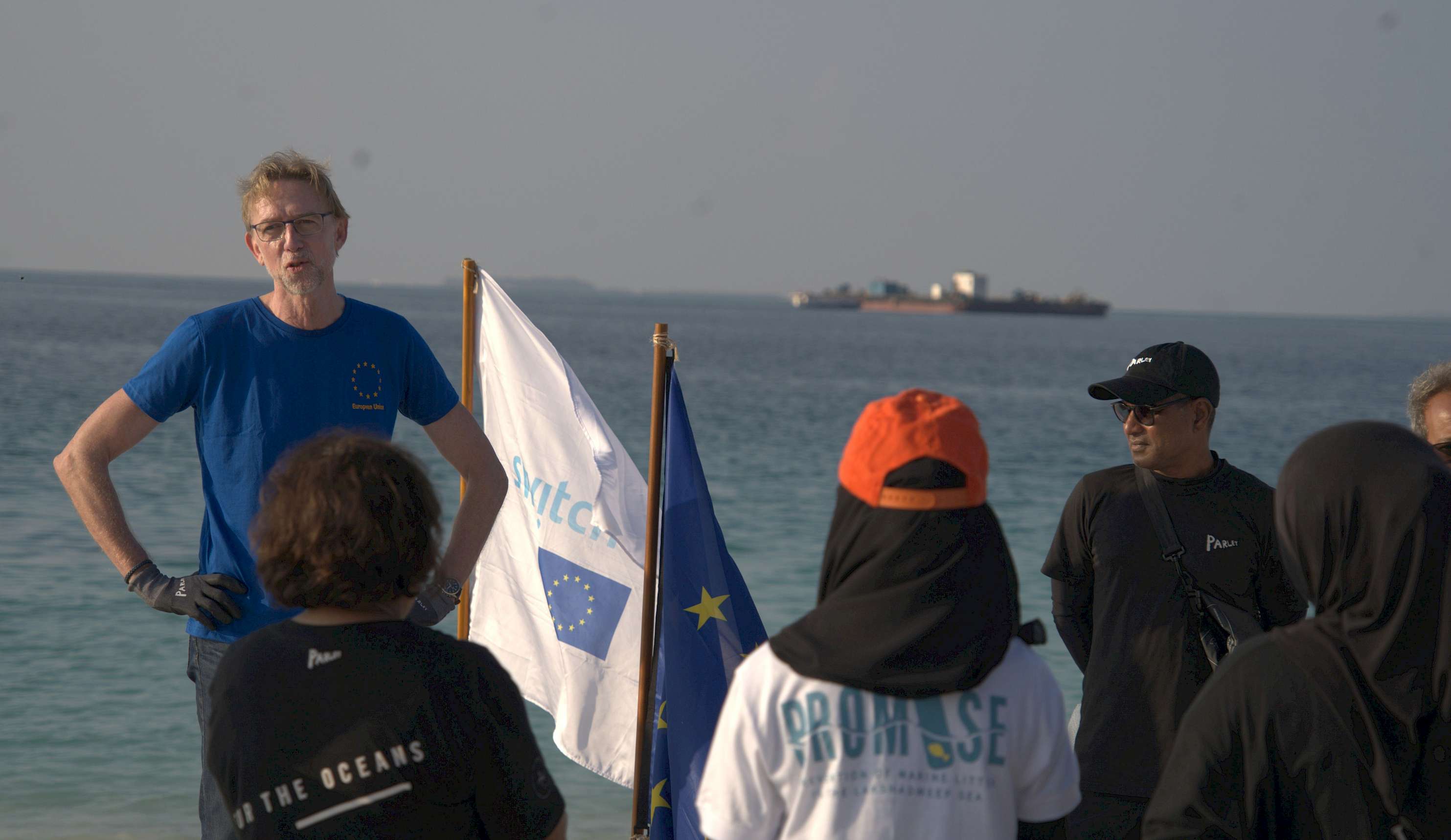 Mr Lars Bredal, Deputy Head of Delegation of the European Union (EU) to the Maldives and Sri Lanka, actively participated in the beach clean-up event.
Around 80% of marine litter is plastic and if we don't change behaviour by 2050 there will be more plastic in the ocean than fish. Waste that ends up in the seas impacts the marine ecosystems and threatening health and livelihood. The Maldives and the European Union are close partners in the fight against climate change and for protecting biodiversity and our oceans. We work together globally for ambitious targets and we work together locally, I am pleased to join forces with everyone here today, through the EU funded SWITCH-Asia flagship project PROMISE, where we unite to protect the marine environment for the local community and future generations, he said. 
The beach clean-up was attended by the EU Delegation together with the Maldives Government Officials, local volunteers and members from relevant NGOs and implementing partners, including the Maldives National University and Parley Maldives.