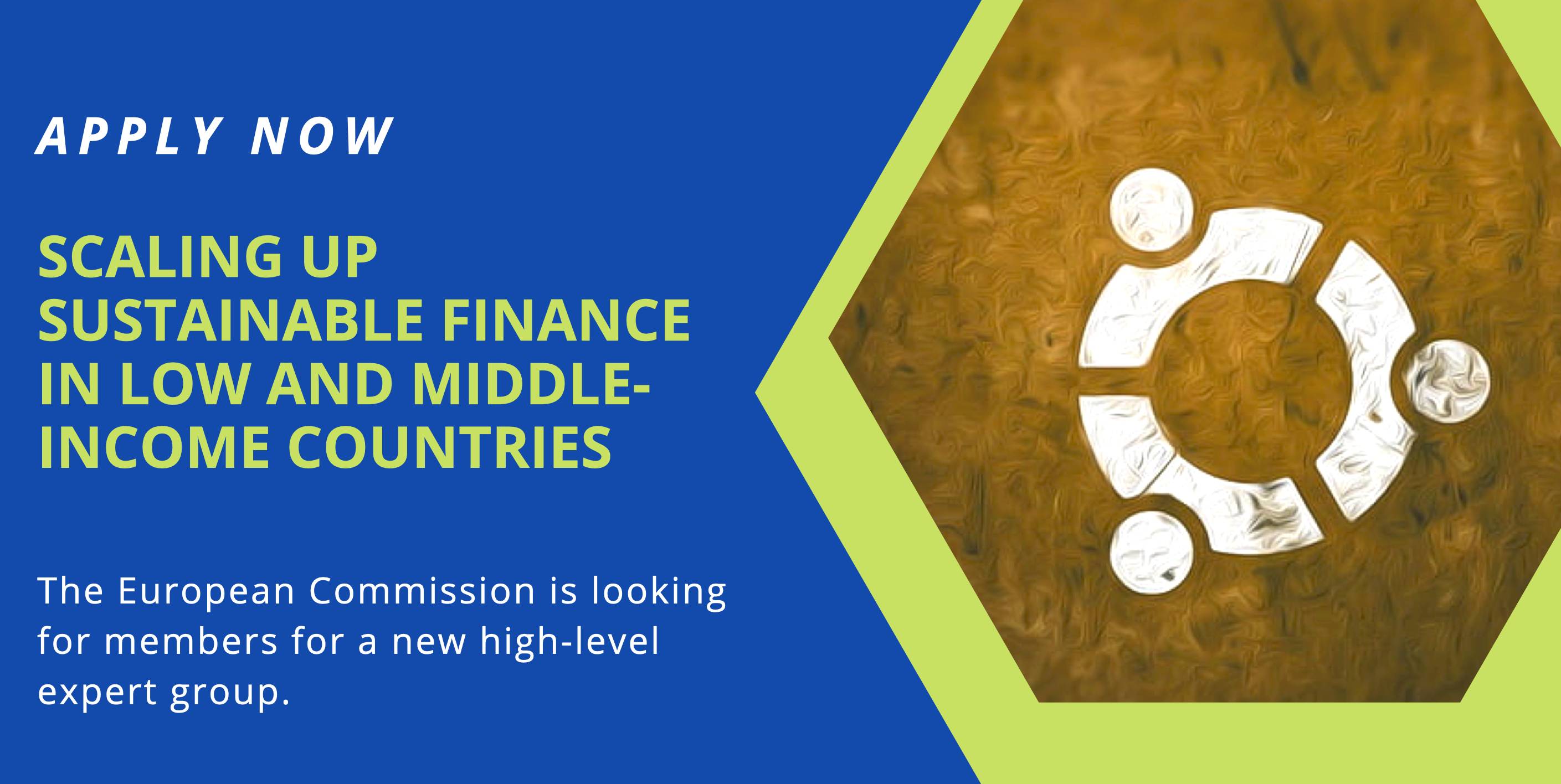 The European Commission is looking for members for a new high-level expert group
Deadline: 11 May at 18:00 (Brussels time)
Mission
The Commission's Strategy for Financing the Transition to a Sustainable Economy (July 2021) establishes that in order to set a high level of ambition in developing international sustainable finance initiatives and to support EU partner countries, the EU will support low- and middle- income countries in scaling up their access to sustainable finance by developing a comprehensive strategy and by promoting sustainable-related financial instruments. 
Tasks
To this end, the Commission is setting up a high-level expert group (HLEG) on scaling up sustainable finance in low- and middle- income countries to identify the challenges and opportunities that sustainable finance presents in low and middle- income countries; and to provide recommendations to the Commission, so as to accelerate private financial flows for the implementation of the external dimension of the Green Deal and a green, just and resilient recovery in our partner countries.
Call for applications
The application procedure is now open and the deadline has been extended to 11 May at 18h (Brussels time). All relevant information can be found in the official documents:
Applications shall be submitted to the group's functional mailbox before 11 May 2022 at 18h (Brussels time): [email protected]
An application will be admissible only if it is sent within the deadline and includes the documents referred to below. All documents submitted by applicants should be duly filled in, legible, signed and numbered sequentially.
Each application shall include the following documents:
a cover letter explaining the applicant's motivation for answering this call and stating what contribution the applicant could make to the group;
a classification form duly filled in specifying the member category for which the application is made (Annex I of the call for applications);
a selection criteria form duly filled in documenting how the applicant fulfills the selection criteria listed in chapter 4 of this call (Annex II of the call for applications).
for individuals applying to be appointed as members of the group to represent a common interest, as well as for individuals indicated by organisations as their representative, a curriculum vitae (CV) shall also be provided, preferably not exceeding three pages.
Additional supporting documents (e.g. publications) may be requested at a later stage.
Questions about the high-level expert group and the call can be sent to: [email protected]
Composition of the group 
This informal expert group shall consist of up to 40 experienced senior, high-level members and observers.
Members and observers shall all be entitled to speak on behalf of their organisation or institution.
The group shall be geographically representative of low- and middle-income countries and EU countries and shall bring together different sectoral areas and domains of expertise, such as:.
EU cross-border investors and local investors in low- and middle-income countries, i.e. insurance companies, pension funds, asset managers, banks, as well as other categories of financial institutions active in intermediating investments in sustainable or green finance or in managing risks linked to sustainable development;
Institutions and organisations providing analysis, data or methodologies that facilitate sustainable or green finance, including international standard setters, sustainability analysis and data providers;
Financial and non-financial companies based in low- and middle-income countries and sectorial experts within the infrastructure or climate adaptation areas;
Civil society organisations;
Academia
For this expert group in particular, members can be of the following types:
Type B members: individuals appointed to represent a common interest shared by stakeholders in a particular policy area, who do not represent an individual stakeholder, but a policy orientation common to different stakeholder organisations. Where appropriate, those individuals may be appointed on the basis of proposals put forward by the stakeholders concerned;
Type C members: organisations in the broad sense of the word,  including companies, associations, Non-Governmental Organisations, trade unions, universities, research institutes, law firms and consultancies;
Members belonging to types B and C need to apply via the Call for Applications
Selection procedure and criteria 
The selection procedure shall consist of an assessment of the applications against the selection criteria listed in chapter 4 of the call, followed by the establishment of a list of the most suitable applicants, and concluded by the appointment of the members of the group.
Criteria:
Proven and relevant professional experience in a high-level senior role within activities and/or organisations having a clear sustainable finance dimension;
Familiarity with sustainable finance principles, standards and frameworks (incl. ESG factors, taxonomies, standards and labels, sustainability-related reporting requirements,);
Familiarity with latest developments at international fora (e.g. G20 Sustainable Finance Working Group);
Demonstrable expertise and understanding of the global financial system and of sustainable finance market developments including sustainability-related financial instruments (e.g. green, social, sustainability, ESG bonds), including latest innovations;
Proven in-depth knowledge of regional and/or local/national challenges and opportunities to scale up sustainable finance in low- and middle-income countries. Relevant work experience in one or several of the regions Asia-Pacific, Africa, Latin America and the Caribbean and the neighbourhood countries;
Good understanding and/or experience in building credible pipelines of bankable and sound environmental projects in low- and middle-income countries;
Strong track record in contributing to policy debates and commentaries on the links between sustainability/environmental issues and the financial system;
Good knowledge of the English language allowing active participation in the discussions and the review of contributions to the group's deliverables;
Willingness and ability to commit sufficient time to the HLEG's work over the duration of the group (up to a maximum of 9 months). Availability to participate to all HLEG meetings.
Proven capacity to represent effectively the position shared by stakeholders within the area of sustainable finance (only for individuals applying to represent a common interest);
Members and observers shall all be entitled to speak on behalf of their organisation or institution.
When defining the composition of the group, geographical and gender balance will be taken into consideration as well as balanced representation of relevant know-how and areas of expertise.
Background
Mobilising private capital for an inclusive and sustainable transition that leaves no one behind will be critical to collectively deliver on the Paris Agreement objectives, the Sustainable Development Goals (SDGs) as well as to close the global infrastructure investment gap. The EU's Green Deal and the Global Gateway strategies are some key examples of the EU efforts in this direction. 
The COVID-19 pandemic has had a dramatic impact on all countries, but more adversely on low- and middle-income countries, reversing years of progress towards their sustainable development. The OECD  estimates that COVID-19 has caused an overall decline in resources, and an increase in needs so that the SDG annual funding gap in developing countries before the pandemic could increase by 70% post-COVID-19 to EUR 3.7 trillion.
While the problem is daunting, there is enough capital in financial markets to fill the growing funding gap needed to reach the Sustainable Development Goals, with assets held by banks, institutional investors and asset managers.  Shifting around 1.1% of the total financial assets would be enough to fill the growing funding gap to reach the Sustainable Development Goals.
But private capital is still far from flowing towards sustainable projects in low- and middle-income countries at the scale and speed required.Scaling up sustainable finance in those countries remains a challenge.
Original announcement posted at European Commission