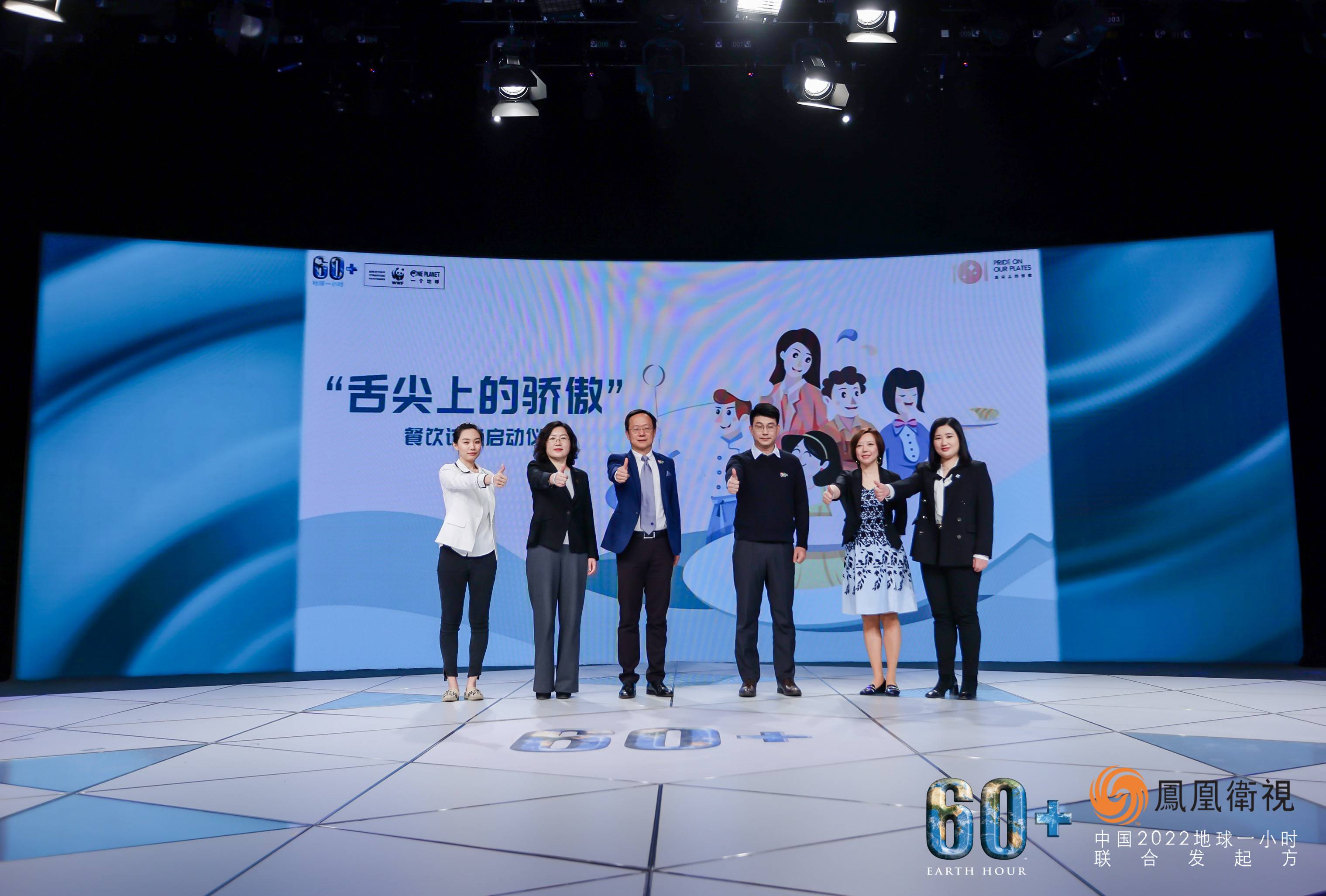 Combating food waste through behavioural insights
On March 26th, the Pride on Our Plates project held a high-level forum at the Beijing Phoenix Center during the 2022 Earth Hour event, launching a number of project activities and achievements, calling on the hospitality and food service industry as well as the public to take actions to combat food waste.
The project is funded by the EU SWITCH-Asia programme and jointly launched by Shenzhen One Planet Foundation (OPF), World Wide Fund for Nature Beijing Office, Rare China Center for Behavior and Rare Germany. Partners jointly called on China's micro, small and medium-sized hospitality and food service enterprises to take part in the challenge against food waste.
Food is closely related and interdependent with human beings and nature. However, while the world has not yet eradicated hunger, about one third of the world's food, which is up to 1.6 billion tons, is still lost or wasted every year. While food is being wasted, the demand for food is continuing to grow, which once again aggravates the pressure on the natural environment. If we can reduce food loss and waste along its production, processing, circulation and consumption, we can greatly reduce the over-exploitation of natural resources and provide food for more people.
Meanwhile, solving the food waste problem is also conducive to dealing with global climate change. The carbon emissions caused by various activities in the food system account for 37% of the global emissions. If the whole society takes action to reduce food waste, it can reduce 4.5 billion tons of carbon dioxide equivalent per year, that is, 8% of the total global greenhouse gas emissions.
Mr. Zhou Fei, Chief Program Officer of WWF Beijing Office, said in his speech: 
Establishing a healthy, sustainable and resilient food system has become an important topic for all countries, and reducing food waste is one of the important ways to strengthen food security. We hope to live in a world where the value of food is fully respected and recognised. We also hope that through effective actions, we can reduce food waste, eliminate hunger and alleviate the stress on the planet.
In his remarks, Mr. Sebastien Paquot, Head of Section, Counsellor for Climate Action and Environment of EU Delegation to China said:
These MSMEs make up 97% of China's enterprises. Reducing and better managing food waste is one of the easiest and most effective ways to mitigate the environmental impact of our food system and to sustainably feed our communities. Therefore, the SWITCH-Asia Pride on Our Plates project aims to empower China's MSMEs in China's hospitality and food service sector to respond to the food waste challenge through prevention, reduction and diversion of food waste. We hope this project will bring its modest contribution to food waste reduction and possibly identify good practices that could be then further replicated at a larger scale.
This year, after solid industry researches and technical discussions, the Pride on Our Plates project has entered the year of "action". During this high-level forum, the team released the "Food Waste Reduction Casebook" and the "Food Waste Reduction Practical Guide" which were completed in collaboration with the Institute of Geographic Sciences and Natural Resources Research, CAS; the project also announced the launch of pilot projects in six cities, which are Beijing, Shanghai, Shenzhen, Hangzhou, Sanya and Kunming, and initiated the "Pride on Our Plates" - Zero Food Waste Cooking Contest.
Ms. Yu Xin, Priority Project Coordinator of Sustainable Food Consumption and Supply Chain, WWF Beijing Office, introduced the significance of the "Food Waste Reduction Casebook" and "Food Waste Reduction Practical Guide":
Our work focuses on the catering industry since the action of reducing food waste in the catering industry is not limited to the industry itself. It can play a strong role of connecting the upstream and downstream including the market, central kitchen, brand holders from supply chain, and can also act as the platform for the most direct contact with consumers, providing very good saving reminders and suggestions. Through analyzing cases, the Guide highlights 7 areas that should be paid attention to in food waste reduction in the industry, and a total of 4 modules, 8 sections and 42 actions of interference are recommended. We hope to provide a reference for the catering industry and offer the best solution for restaurant to run on its own.
The Casebook introduces a survey conducted by project partner Rare China Center for Behavior in 2021 on numerous catering enterprises in Beijing, Hangzhou and Kunming, and summarises the concerns and problems of 11 key positions in the catering industry on reducing food waste. In addition, the Casebook also works with Eleme.com to investigate the current situation of food waste reduction of 400 catering enterprises in 12 cities.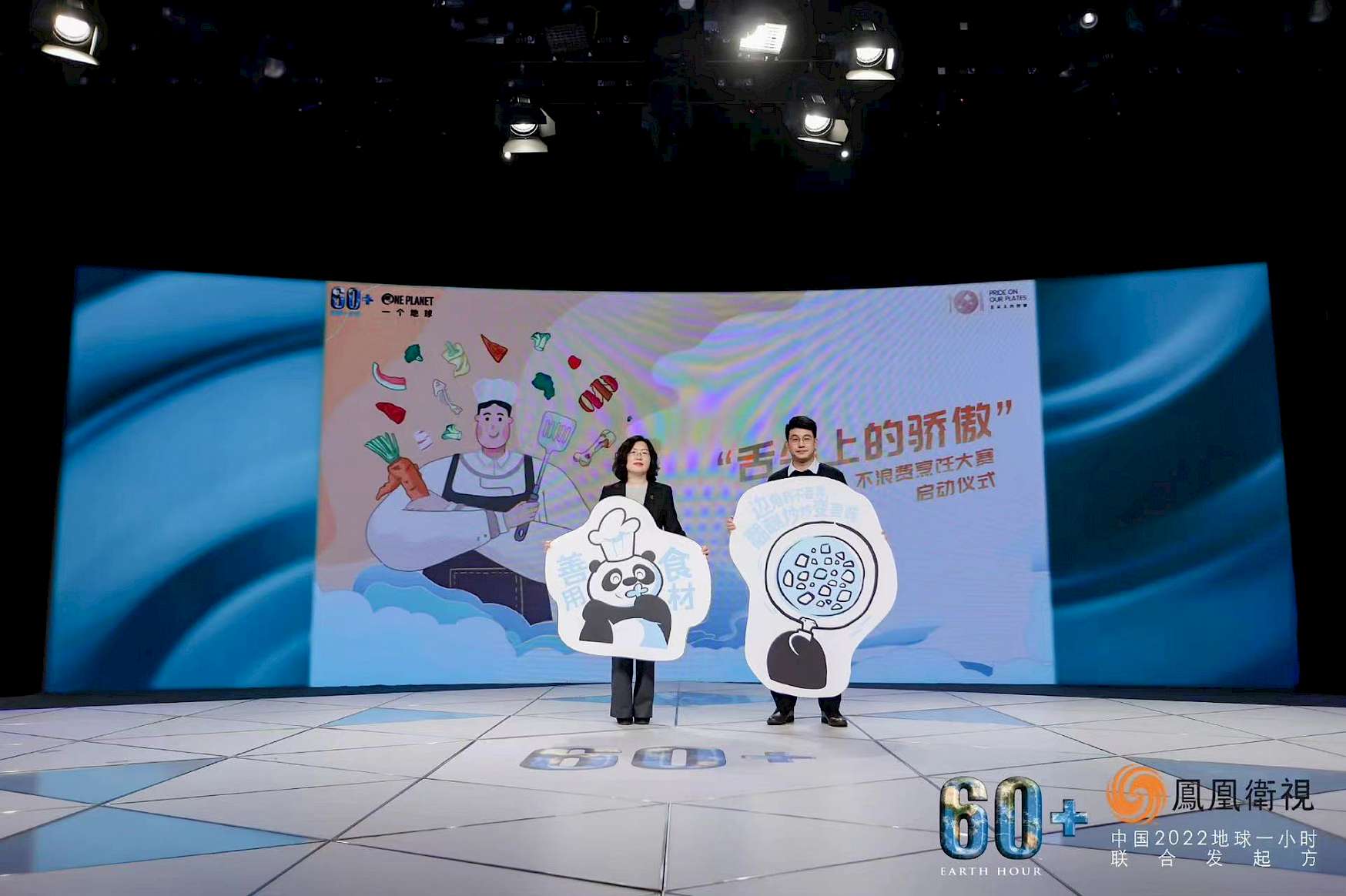 A roundtable discussion was arranged to share experiences in food waste reduction. Speakers were representatives from international organisations, research institutions, catering industry and a food delivery platform.
Mr. Dong Le, Program Officer (Partnership and Innovation) of FAO, emphasised the contribution of innovative technologies on reducing food loss and waste. In the process of harvesting, transportation, storage and other links, the outer packaging of food needs to be constantly replaced, which not only leads to the exterior damage of vegetables and fruits, but also the nutritional loss, he explained. For this issue, FAO is cooperating with many partners around the world, especially food packaging and innovative technology enterprises, to make sure that preciously harvested food can be transported safely to supermarkets and be selected and enjoyed by consumers.
Ms. Zheng Lixia, from the SWITCH-Asia Regional Policy Advocacy Component (RPAC) and UNEP China Office pointed out that food plays a very important role to realise China's sustainable consumption transformation. One important reason for this role is the serious situation of food waste. The other reason is that food consumption itself accounts for a large proportion of residents' consumption. Promoting the transformation of food system and promoting sustainable food consumption, including reducing food waste, can better improve resource efficiency, reduce energy loss and promote ecosystem restoration.
Ms. Song Xiaoxi, Vice president & Secretary – General of China Hospitality Association shared some solutions from industry experiences, one of them is establishing a long-term mechanism through green catering industry standards. For example, since the China Hospitality Association launched the national standard of "Green catering operation and management" in 2021, the amount of kitchen waste disposal in pilot restaurants decreased by 12% while still maintaining customer satisfaction. In addition, extensive industry and enterprise education was emphasised, as well as promoting refined management over the entire industry, and thinking about how the industry chain can work in a synergetic way to tackle food waste.
Mr. Tang Xipeng, Executive Chairman of China Hospitality Association Famous Chefs Committee emphasised the importance of quantitative standards in a chef's daily work. If the quantitative standards could be in place and implemented, all food and even all processes could be quantified, as a result, a large part of waste could be eliminated. In addition, he also mentioned that as a chef, we should respect food, this is not only professional ethics, but also kitchen ethics.
Ms. Fang Ying, Deputy General Manager of Cooperation and Development of Alibaba Local Services introduced the findings of the survey conducted on the food delivery platform in collaboration with the "Pride on Our Plates" project. The results showed that merchants do have some awareness of food waste reduction and are willing to invest in relevant manpower and resources to improve their ability to tackle food waste. However, they feel they are short of professional knowledge and management tools. Meanwhile, among the major causes for food waste in the survey, the highest food waste volume occurs at the consumer end, accounting for about 45% of total volume, followed by waste during cooking process and scraps in the preparation process.
At the end of the Forum, Mr. Ding Gan, Secretary General of Shenzhen One Planet Foundation, announced the launch of "Pride on Our Plates" - Zero Food Waste Cooking Contest. The diversity and inclusiveness of Chinese cuisine provide limitless possibilities to zero food waste cooking. We look forward to calling on chefs and the public across China to come up with new ideas on cooking through the skillful and smart use of food ingredients, and promote zero food waste actions in food service industry and the public from various dimensions. The contest will cover three categories of Chinese cooking including: hot dishes, cold dishes and fermented food. The entries will be collected through a video form and five "Zero Food Waste Cooking Chefs" will be selected in each type of cooking.