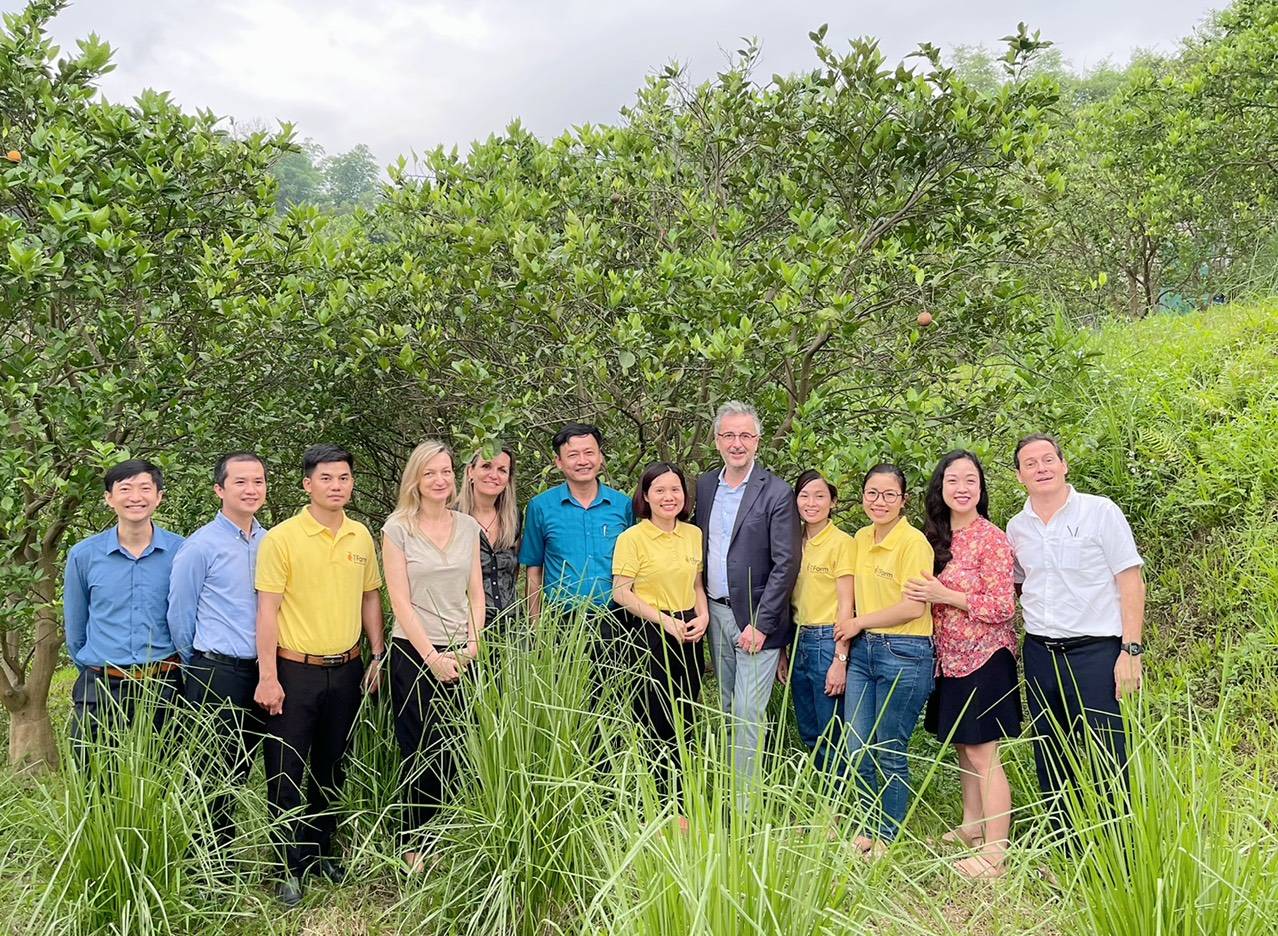 On April 29th, the European Union funded SWITCH-Asia project Promotion of supply and demand of Eco-Fair Agri-food processing products in Vietnam (Eco-Fair) organised a visit to the Eco-Fair model 3T Cooperative in Cao Phong ddistrict, Hoa Binh province. The visit was attended by Mr. Jean-Louis Ville, Acting Director of the Directorate-General for International Partnerships (DG INTPA), Head of Unit – East, South-East Asia and Pacific and the EU Delegation to Vietnam. 
Dr. Nguyen Bao Thoa, Director of the Vietnam Rural Industries Research and Development Institute (VIRI) and manager of Eco-Fair briefed guests on project highlights and achievements attained to this date. The 3T Cooperative has received support from the Eco-Fair project in a variety of areas including: capacity building in sustainable production, quick assessment of their Resource Efficiency and Cleaner Production, pest control and soil enhancements using eco-friendly methods such as plan-parasitic nematode control, and the development of new products derived from oranges such as orange detoxifying tea, condensed orange juice, dried orange products, among others.
Mr. Jean-Louis Ville highly appreciated and praised the activities of the Eco-Fair project and the 3T Cooperative and their contribution to the transition towards environmentally friendly and resource efficient agricultural practices in Vietnam. The 3T Cooperative holds all the potential to become the pioneer and champion of the eco-fair philosophy in Vietnam and inspiring many others. 
The SWITCH-Asia Eco-Fair project was born with a mission of changing the behavior of individuals and organisations in order to exert the most positive measures on environmental change. Tackling the two components of Sustainable Consumption and Production (SCP), this initiative sets two main targets: 
Raise consumer awareness on eco agriculture, eco-products and fair trade,
Engage MSMEs to learn about sustainable practices in food production while cutting production costs. 
Implemented by the Vietnam Rural Industries Research and Development Institute (VIRI), in partnership with the Centre For Creativity and Sustainability (CCS), Vietnam Cleaner Production Centre Co. Ltd (VNCPC) and  Funzilife Ltd, this ongoing project will be implemented until 2023.