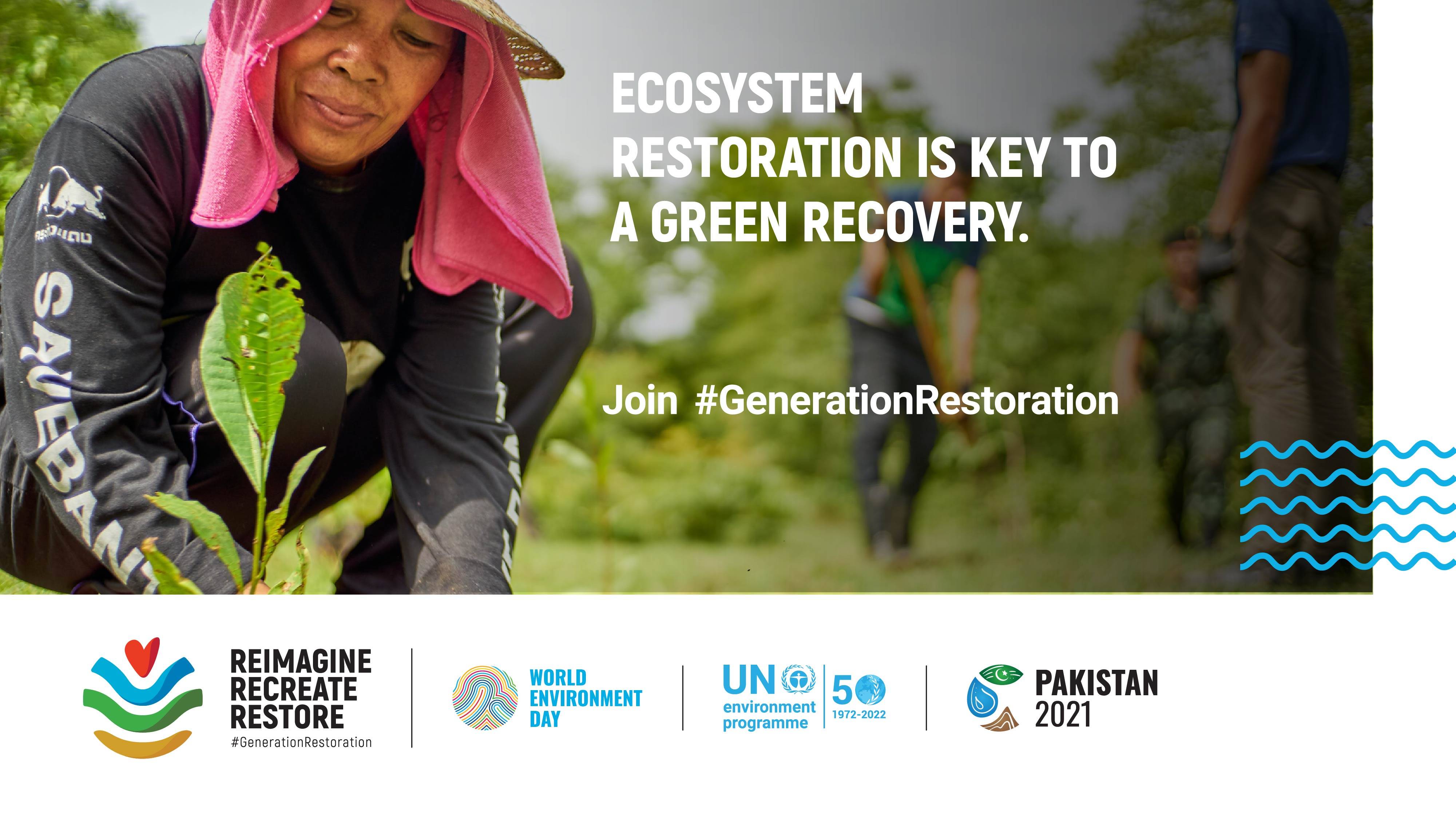 Location: Online
Organizer: UNEP - RPAC
Ecosystem Restoration
Date: 4 June 2021      I       Time:  13:00 - 16:00 (Bangkok time / GMT +7 hrs)     I      Register  here
Background 
World Environment Day is celebrated every year on June 5 to raise awareness and generate action on a pressing environmental issue. The Day offers an opportunity to reflect on accomplishments and renew our resolve in overcoming the environmental challenges facing the world today. Held annually since 1974, World Environment Day is a vital platform for promoting progress on the environmental dimensions of the Sustainable Development Goals. Governments, major corporations, non-governmental organizations, local communities, celebrities and citizens around the world adopt the World Environment Day brand and participate in celebrations every year in support of the environment.
World Environment Day 2021 is hosted by Pakistan on the theme of "Ecosystem Restoration" under the campaign "Reimagine. Recreate. Restore." The official hashtags for the Day are #GenerationRestoration and #WorldEnvironmentDay. This year, the Day will also serve as the formal launch of the United Nations Decade on Ecosystem Restoration 2021-2030.
On Friday 4 June, you're invited to join our online event. For too long, we have been exploiting our planet's ecosystems beyond the ecological carrying capacity. This has caused serious imbalances in ecosystem services and the human life support system.
This trend needs to be redressed, for the sake of human survivability. Ecosystem restoration, in other words 'turning from exploiting nature to healing it', is absolutely essential. World Environment Day 21 will kick off the UN Decade on Ecosystem Restoration, a global mission to revive billions of hectares of ecosystems, from forests to farmlands, from the top of mountains to the depth of the sea. World Environment Day offers a global platform for inspiring positive change. It pushes for individuals to actively improve their consumption behavior; for businesses to develop greener models; for governments to invest in repairing the environment; and for youth to build a greener future, for people to reinvigorate a coalition between humanity and nature.