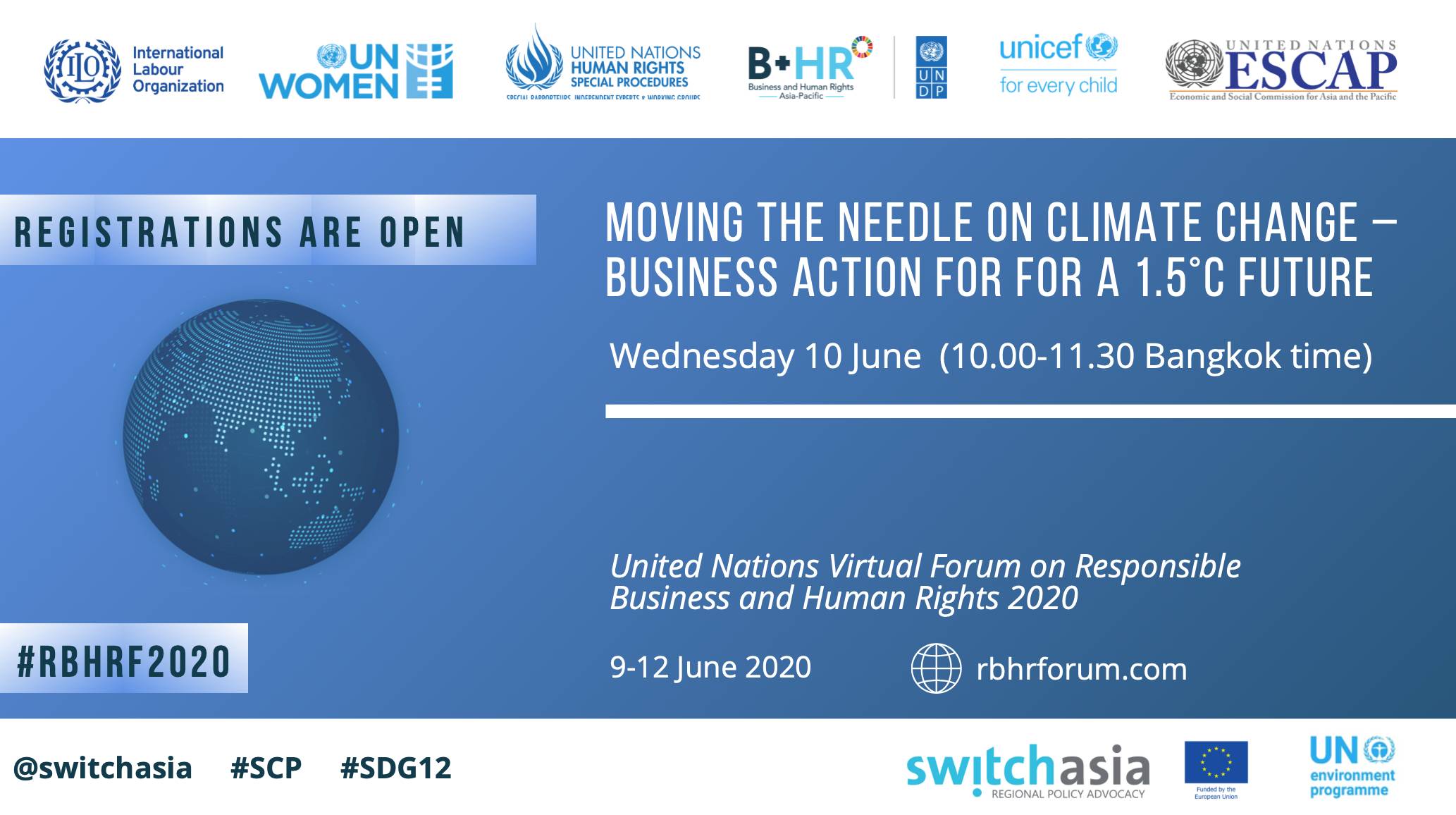 Location: Online
Organizer: SWITCH-Asia RPAC
Business Actions for a 1.5°C Future
Setting greenhouse gas emission reduction targets in line with climate science can help business take a lead on climate change and future-proof the business. As so often stated, you cannot manage what you cannot measure. Climate impact assessment, reporting and target setting will thus be critical to move business action. Various initiatives such as the Taskforce on Climate-related Financial Disclosures (TCFD), and the Science Based Targets (SBT) initiatives have been set up to improve reporting and advance the climate action.
Businesses are also expected to integrate climate considerations as part of human rights due diligence under the UN Guiding Principles on Business and Human Rights. Globally, companies have started coming forward to set climate-based targets as ambitious as net-zero carbon emissions by 2050 or before. Corporate leadership on Climate Change is also growing in the Asia- Pacific region. Currently, 25% of the 800+ signatories to the science-based targets initiative are from the region, about half of which had developed climate action targets by early 2020.
Objectives
This session will share experiences of companies in the Asia-Pacific region who are taking ambitious action on climate, through climate impact assessment, reporting, target setting and action, to share good practices and lessons learned, to inspire action by others and discuss how to further advance climate related target setting and action among companies in the region. It will also discuss the role of states and investors in providing incentives to speed up climate action, and the impact of covid-19 on delivering on commitments made by states and businesses.
Speakers                                                                           WATCH THE VIDEO

Contact:  
Mr. Mushtaq Ahmed Memon
Regional Coordinator for Resource Efficiency
UN Environment Programme, Regional Office for Asia and the Pacific
Project Manager
Regional Policy Advocacy Component
(SWITCH-Asia – the European Union funded programme)
Email: [email protected]