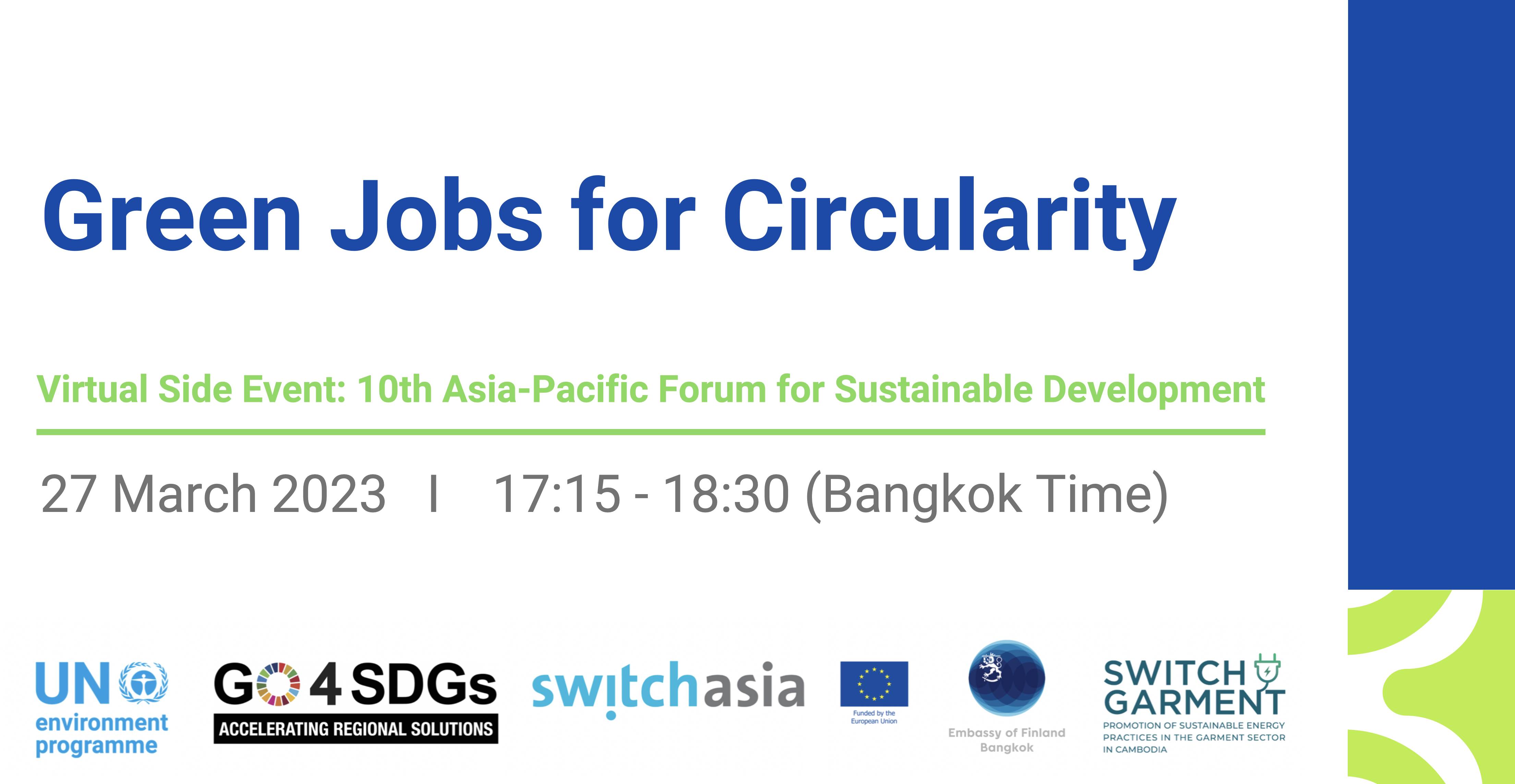 Location: Online
Organizer: United Nations Environment Programme / Global Opportunities for Sustainable Development Goals (GO4SDGs)
10th Asia-Pacific Forum on Sustainable Development
WHEN: 27 March 2023   I    TIME:   17:15 - 18:30 (Bangkok Time)   I   Register HERE     I   Platform  TBC   I   Official APFSD website
Co-organisers: SWITCH-Asia, Embassy of Finland in Bangkok, International Labour Organization
Background
Transitioning to a circularity supports achieving the Agenda 2030. Businesses are increasingly adopting circular business models and creating profit while reducing the need for virgin raw materials.
According to ILO, adopting sustainable practices in business operations to limit global warming to 2°C will create some 24 million jobs, offering youth – both men and women – job opportunities that will also contribute to the transition to a green and circular economy.
Asia and the Pacific region is home to more than 600 million youth. The youth in the region can be a solution to ensuring skilled workforce for circular businesses but this requires identifying needed skills and focusing on adequate education.
This side event will focus on the opportunities and challenges for Asia and the Pacific region to move towards circularity while creating new green jobs. It will focus on three high impact sectors: textiles, food packaging and agri-food sectors. The textile industry accounts for 55% of the global textiles and clothing exports and employs around 60 million workers (approx. 80% women). Green jobs in agriculture and agri-food sectors are expected to increase as much as 60% in primary-sector employment and a 20% increase in global gross domestic product by 2050.
Bringing together a diverse panel of experts from the public sector, private sector and civil society, this session aims to draw attention to one of the essential enablers for scaling circular business models. Overconsumption of materials and natural resources causes 45 % of GHG emissions and 90 % of biodiversity loss. The circular economy can support achieving the Agenda 2030 by reducing material and resource consumption while enhancing the economic and social development and reducing environmental degradation.
Virtual Side Event
For circular business models to scale, it is essential ensure a labour force that has adequate skills. The Asia and the Pacific region is home to more than 600 million youth. However, their future job prospects are continuously hampered by technology, COVID-19 pandemic, and climate change. This APFSD side event will focus on ways to ensure that the available work force and available green and circular jobs fit each other. It will discuss the business opportunities role of ensuring necessary skills shift value chains towards circularity.