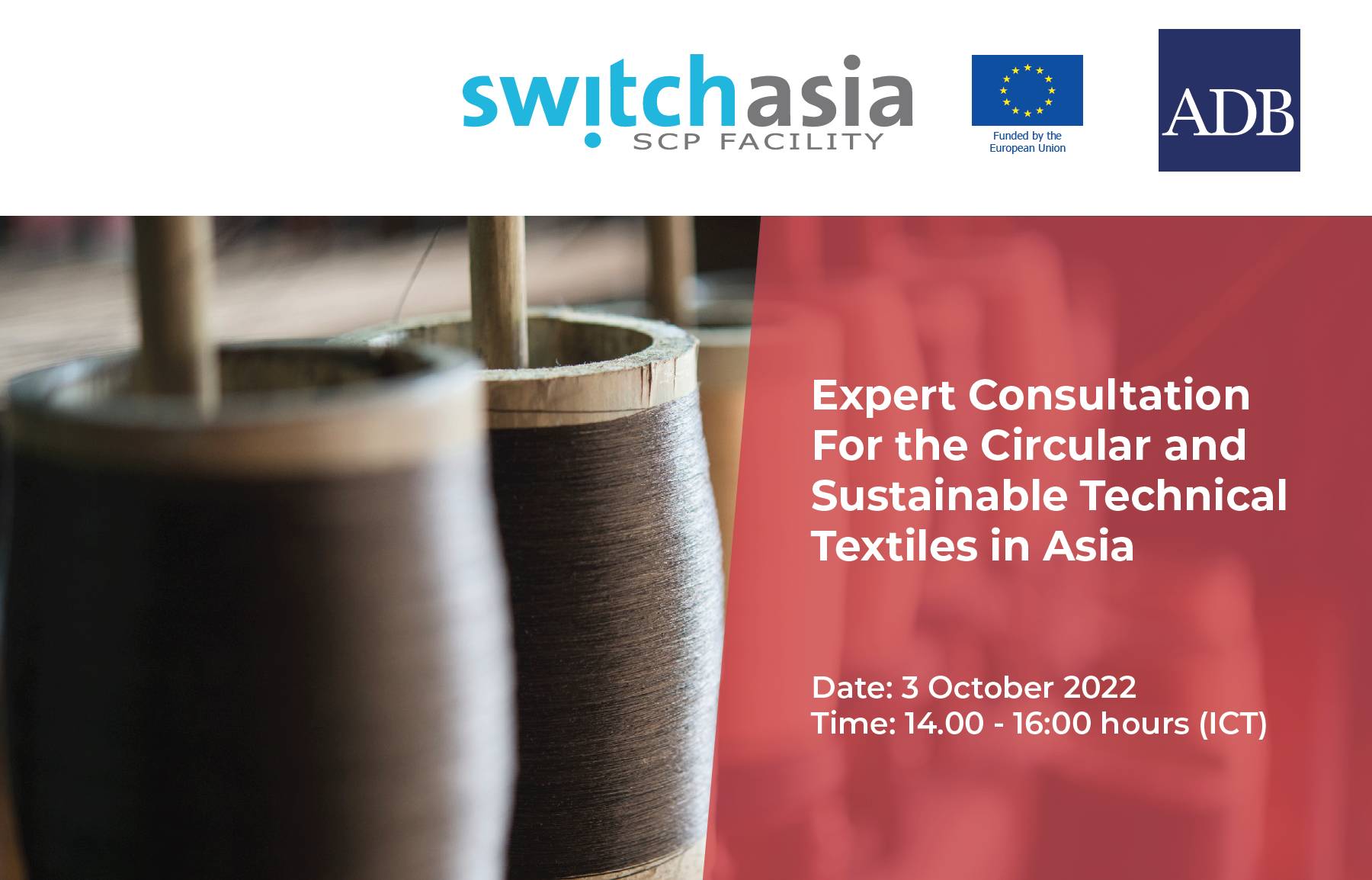 Location: Online
Organizer: SWITCH-Asia SCP Facility and the Asian Development Bank (ADB)
Expert Consultation
When:  3 October 2022      I     Time:  14:00-16:00  (Bangkok Time)    I   Closed-door Event 
Background
Technical textiles have a significant part in virtually every social and economic activity. A combination of technology and textile materials provides a vast array of options for numerous applications. The textile sector, however, accounts for roughly one-fifth of global industrial water pollution, uses a vast array of hazardous chemicals, and emits substantial greenhouse gas emissions, especially during the production and finishing stages. While these impacts are well documented for the fashion industry, much less attention has been given to the technical textiles for which demand is increasing rapidly in recent years. A need to transition to a circular production and consumption system for technical textiles is clear. And partnerships play a crucial role in developing more resilient technical textile supply chains in Asia. This proposed expert consultation session, jointly organised by the Asian Development Bank (ADB) and the EU SWITCH-Asia SCP Facility, will examine the current trends, challenges, opportunities, and game changers to move the technical textiles industry toward a circular and sustainable value chain, with a particular focus on identifying leverages and trigger points for transformative change of the sector.
Objectives
The expert consultation aims to contribute to a deeper understanding of critical factors facilitating circularity of the technical textile sector in Asia. It will focus on the discussion of: 
Circular-economy-related practices that contribute to the sustainability of materials and used in the region and
Critical factors that influence the development of circular supply chains.
Outcomes
Expected results of the expert consultation include:
Better understanding of the critical factors and players facilitating circular technical textiles for Asian markets.
Identified issues and factors for market transformation (policies, finance, technology development, etc.) towards sustainability and circularity in the technical textile value chain.
Increased knowledge of key initiatives toward sustainable and circular value chain in the technical textile industry and understanding of how to scale up such initiatives through policy support and collaboration and partnerships.
Increased collaboration between concerned partners.
Targeted Participants
Representatives from the manufacturers, brand owners, knowledge institutes, and development partners as well as respective staff of the Asian Development Bank and SWITCH-Asia Programme.